Richland Bank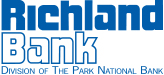 Address:
3 N. Main Street
Mansfield, OH 44902
Phone:
419-525-8769
Contact:
Clayton Herold
Website:
https://www.richlandbank.com/
It all began right here in Richland County. In early 1892 a group of progressive investors got together in Mansfield to form a bank. On July 16th of that year, the Richland Savings Bank opened its doors with a total staff of four in downtown Mansfield. Almost 125 years later, Richland Bank still stands as a pillar in the community with 11 banking offices and 11 ATMs, the most of any financial institution in Richland County. Our over 120 well-trained, caring staff are committed to providing service with excellence and giving back to the community in which we live. We pride ourselves with keeping pace with the latest in financial services and products but with a personal touch.
Feel free to contact me with your Commercial Loan Questions!