Ed Pickens' Cafe on Main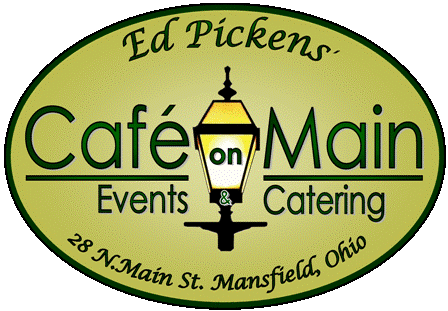 Address:
Historic Reeds Building
Downtown Mansfield, OH 44901
Phone:
419-522-7699
Contact:
Ed Pickens
Website:
http://www.cafeonmain.net
Ed Pickens' Café on Main, voted 2009 Chamber Small Business of the Year in the Retail/Services sector, is located in beautiful downtown Mansfield in the Historic Reed's Building.
With Ed's more than 30 years experience in catering, Café on Main can offer professional full service with excellent, personalized planning, delicious food and an overall outstanding experience for your special day.
We can cater any special event at numerous locations, including your home. We also offer two on-site banquet rooms for your special occasion. Our beautiful Kobacker Room can seat up to 200 guests and offers a unique elegance for your party. The Historic Reed's Room accommodates up to 150 guests and features tin ceilings, elegant chandeliers and our Viking Kitchen for live, on-site preparation.
Choose from our Hors d' oeuvre, Dinner Buffet, BBQ, Breakfast, Deli Catering, Homestyle Lunch Buffet, or Wedding Buffet menus to find the perfect food to compliment your event.
If it's lunch catering you are looking for, that is our specialty. We have the right menu for your event, be it a box lunch or deli sub buffets for the casual meeting or a home-style dinner buffet for that special retiree dinner. We can also do a company BBQ when you want to reward the crew for a job well done.
For more information on catering menus and venues we service, visit our web site www.cafeonmain.net. You can contact Ed directly ated@cafeonmain.net or call 419.522.7699.